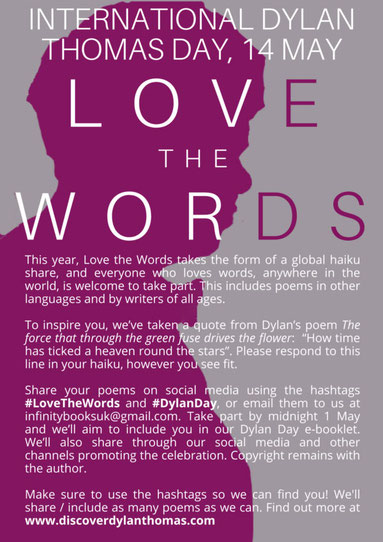 ---
Tutti i diritti riservati
All rights reserved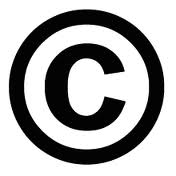 Quotes from Dylan Thomas: '© The Dylan Thomas Trust'
---
---
The Moon names used in The Old Farmer's Almanac come from Native American, Colonial American, or other traditional North American sources.
Dylan Thomas' verse referred to TIME and SPACE is the source of inspiration for this MOON CALENDAR. 
---
MOON CALENDAR HAIKU
Midnight is looming
Bells tolling at a distance –
January wolf moon
February snow moon
Pendulum swings in the clock –
A trail to Heaven
Clouds in windy night
March worm moon heralds spring back-
A clock's humming noise
Bright April pink moon
Sand running through an hourglass-
Peach flowers in bloom
Sweet May flower moon-
A cuckoo clock strikes the hours-
Stars and roses on the way
Slow passage of time
Grains of sand in the hourglass-
June strawberry moon
Buck moon in July
Summer nights are mild and short-
Tower bells strike midnight
August sturgeon moon
Smell of sea salt in the air_
I hear bells tolling
September corn moon-
Sundials with lights and shadows
Leaves in windy sky
Hunter's veiled full moon
Foggy, dark October's nights –
Time passes slowly
Winter is not far
Pale November beaver moon-
Minutes last like hours
December cold moon
Gentle flakes fall on snowy paths -
 Far chimes resonate
---
Haiga are typically painted by haiku poets (haijin), and often accompanied by a haiku poem.
(source: Wikipedia)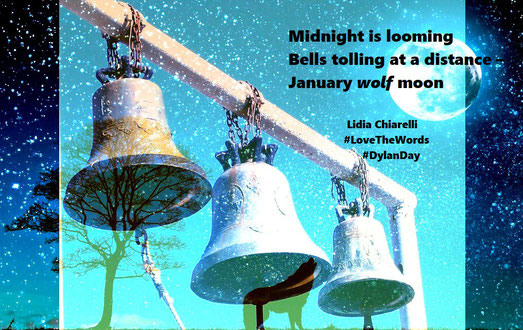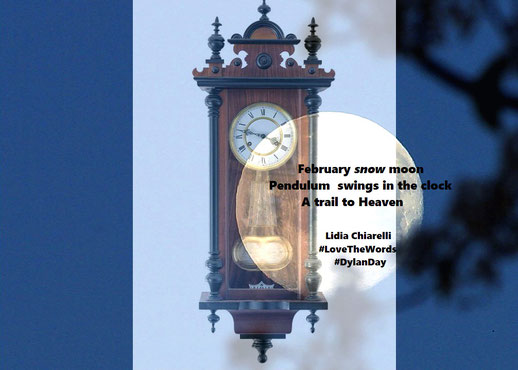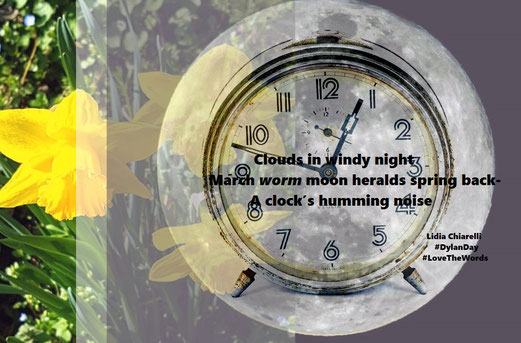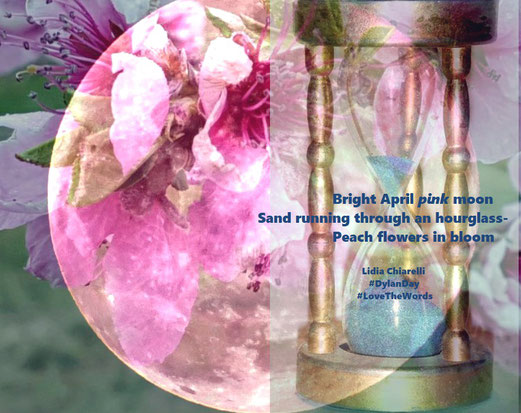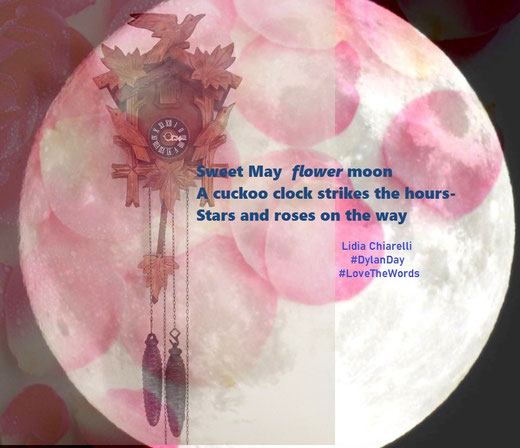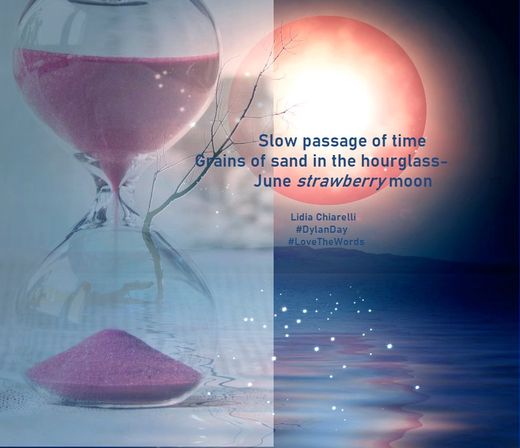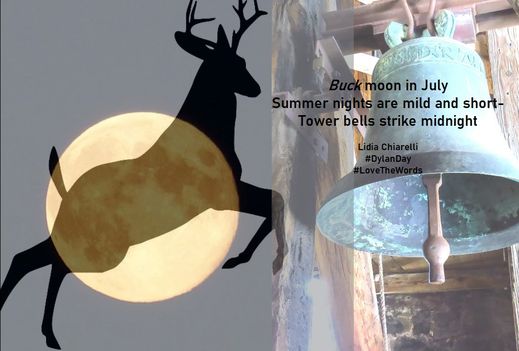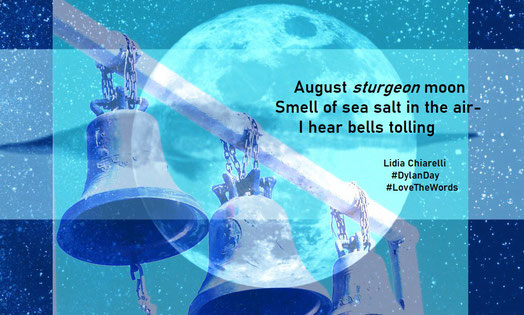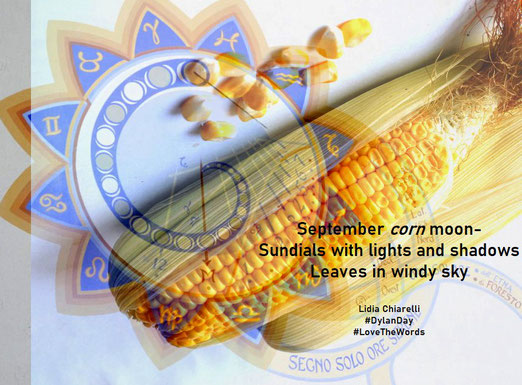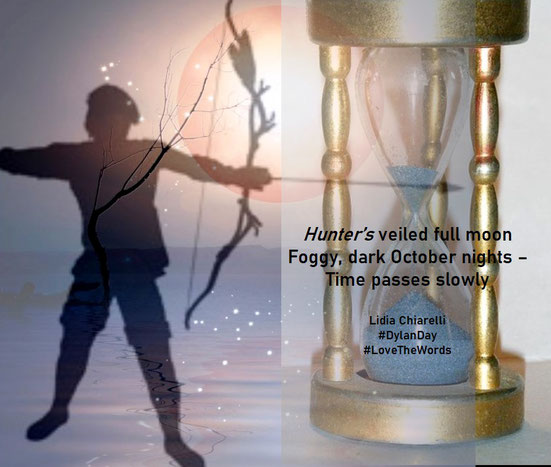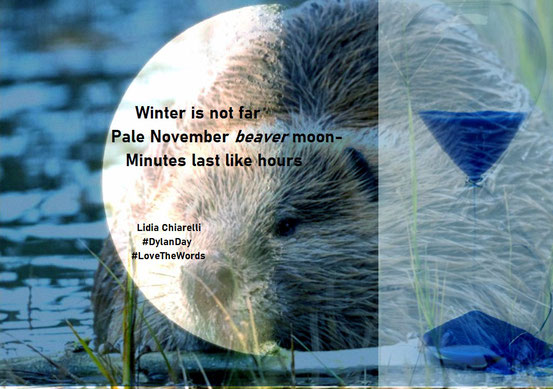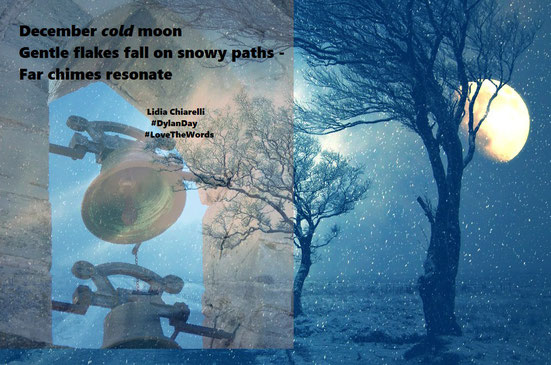 ---
---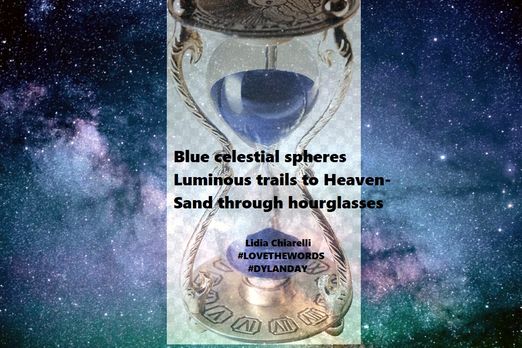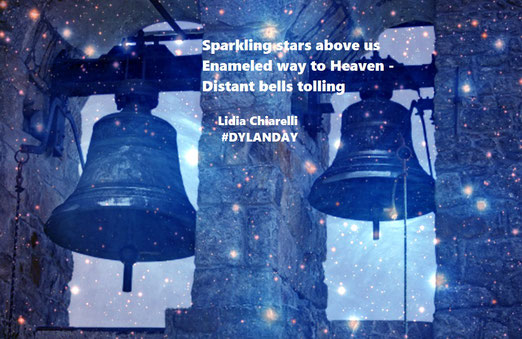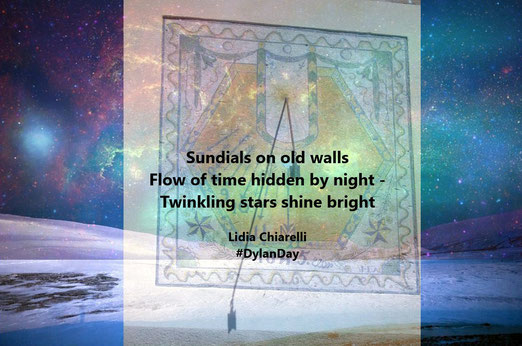 ---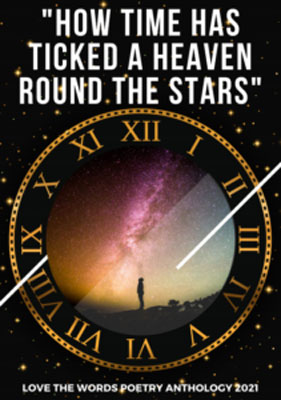 ---
"A good poem is a contribution to reality. The world is never the same once a good poem has been added to it"
Dylan Thomas
       Quotes from Dylan Thomas: '© The Dylan Thomas Trust'
"A Haiku might be the simplest poetic delight a poet can add to reality. Whoever has such skills holds the magic to change the perception of his world"
Henry Zhao         
1.
The naked black rocks
washing themselves in waves 
as the white birds look on 
2.
A column of passing seabirds 
are fanning the waves brighter
with their tieless wings 
3.
Mist or dream?
above the ocean waves 
beside the rocks
4.
Look! a surfer 
is becoming the spirit
of the waves 
5.
I am positive this is 
the same sea-breeze 
that I felt in Thanksgiving day
 6. 
Out of wild mountains 
climbs up a flowering tree
The Moon 
7.
Empty streets 
moonlight blowing 
from tree to tree 
8.
In Spring moonlight 
a distant thought 
brighten up 
9.
Always brings us sunshine 
yet I don't know her name 
a singing bird 
10.
Is there more delight? 
for a pair of cheery trees
in a Rose garden 
Dr. Henry Zhao is a Chinese-American, lives and works in San Francisco, California. He received higher education in both Britain and the USA, and published over one hundred poems in reputable Chinese and bio-lingual poetry Journals in recent years. His first poem collection 《Sea breeze through bamboo》was published in USA in 2020 and is available in Amazon. It includes over 100 Chinese and English Haiku poems as well as Chinese translation of English poems.
---
In the pint of beer
A poet searches for the last remains
Of his poetry - Dylan Thomas
Graveyard lies in the shadow
Of life, love, moon and shiny stars
Death shall have no dominion.
Dying light of our world
To gently switch off the dark night
Blind man is wandering around 
Ana Stjelja (1982, Belgrade, Serbia). In 2012 she obtained her PhD (on the life and work of the Serbian woman writer Jelena J. Dimitrijević).
She is a poet, writer, translator, journalist, researcher and editor.
She published more than 30 books of different literary genres. She is published in English, Spanish, Portuguese, Slovenian, Farsi, Chinese, Arabic, Azerbaijani and Greek.
The Editor-in-chief of the Alia Mundi magazine for cultural diversity, online literary magazine Enheduana and  Poetryzine, an online magazine for poetry in English.
She is a regular collaborator of The Poet Magazine from England, doing interviews with the world acclaimed poets.
In 2018 she established the Association Alia Mundi for promoting cultural diversity.
She is a member of the Association of Writers of Serbia, the Association of Literary Translators of Serbia, the Association of Journalists of Serbia and the International Journalist Federation (IJF) 
Official Website: https://poetryzinemag.wixsite.com/poetryzine
Instagram: https://www.instagram.com/poetryzine.magazine/
Facebook Page: https://www.facebook.com/poetryzine
---
HAIKU FOR #DYLANDAY
Our world is peaceful, 
in harmony we shall be
Peace, humanity
Trees grow in the wild; 
their branches are full of glee;
they only want to be free
A flower blooms to 
let out the inside beauty 
it will never hide
Birds sing joyful hymns;
they awake our true spirits 
in the morning light
Darkness be my guide 
and through the night I will ride 
be true by my side
Antonia Petrone is an American -Italian poet living in Italy. She has published with Pagine in Rome: Tracce (2015), Voci Versate (2018) and in the Anthology, M'illumino d'immenso (2019). In December 2020 she published her first collection of poems in Italian "Le Poesie di Antonia" and is working on her next collection in English, "Antonia's Poetry Garden"